How to Create the Perfect Wall Collage
Whether you want to liven up an empty wall, have your loved ones' pictures around at your home all times, or display your passions and interests--a picture wall collage is perfect for everything.
It can be a vibrant addition to your home decor and at the same time, it can get your creativity flowing and allow you to experiment and find your style.
As you get started to create your own gallery wall for your house, here are some tips and tricks to make sure it turns out great the first time itself!
1. Find the right spot
It can be tempting to put together a bunch of pictures right away and hang them, but they may end up looking messy on the wall..
Instead, take your time to find the right spot in your house for your picture wall collage. It can be an empty living room wall, some space near your wall mounted TV, or in the hallway.
2. Work according to the space
The size of the wall space you have selected will determine the size for your images. If you are decorating a small section of a wall next to a window, you should use smaller pictures like polaroids or miniature print sets.
If you have a full size living room wall to work with, bigger size images are ideal to fill up all that space effectively.
3. Work with the colour and texture
Take note of the colour and texture of the wall so you can make sure to use pictures that play off well with its features. If you have picked a dark wall for your creative endeavour, using images with more light in them are best suited. Similarly, you can use dark or brightly coloured images on a light or pastel-coloured wall.
If you have a textured wall, use a big A3 or A2 size image that can stand up to the wall. Adding a border in contrasting colour of the wall can help frame the picture better.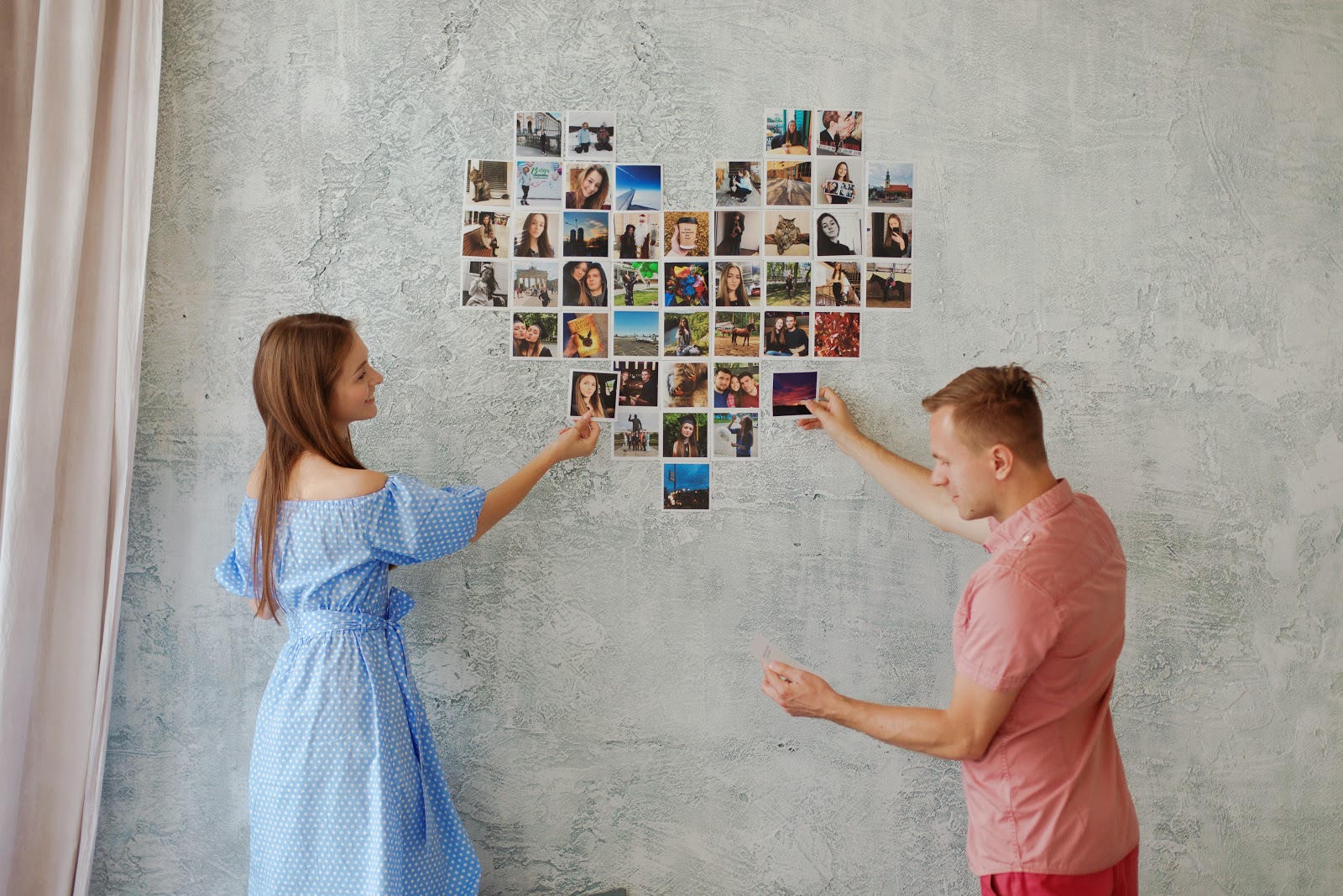 4. Plan the layout
The right layout contributes significantly to bring your gallery wall idea to life. You can make a simple and eye-catching symmetrical pattern using square print images that line up as a grid, in a pyramid shape, or have varying numbers of images in each row or column.
If you want something more creative, you can mix up vertical, horizontal, and square images for show-stopping, art piece style wall decor.
5. Pick the best images
Use the photos that you like the best--they can be photos of some of your most memorable life events or just some pictures where you think you look your best. Moreover, when you get your pictures printed, ensure they are of high quality and do not pixelate.Gicly can help your photos printed in premium quality, in just about every size possible.
Don't overcrowd your artwork!
Do not fill an entire wall with pictures, your photo collage should be the focal point - not the wall itself. At the same time, do not shy away from using big and bold images on your walls.
Try multiple layouts on the floor before you start mounting to see what works best as per your taste, and click pictures in your phone to make sure you don't forget it!